Radius Brochure 2005 / The Aldrich Contemporary Art Museum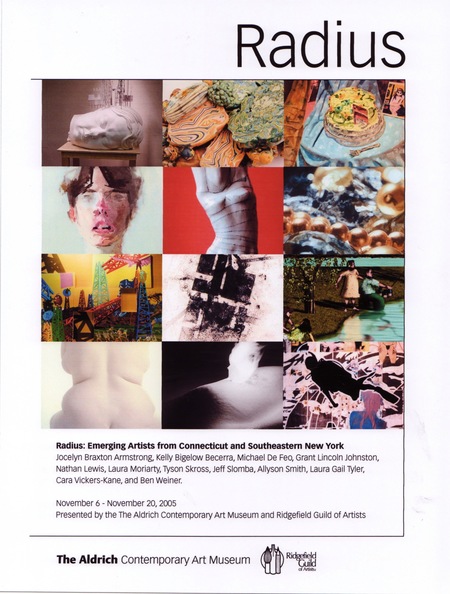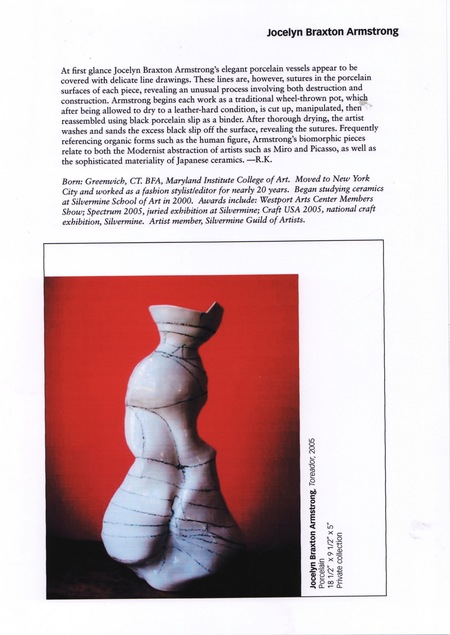 At first glance Jocelyn Braxton Armstrong's elegant porcelain vessels appear to be covered with delicate line drawings. These lines are, however, sutures in the porcelain surfaces of each piece, revealing an unusual process involving both destruction and construction. Armstrong begins each work as a traditional wheel-thrown pot, which after being allowed to dry to a leather-hard condition, is cut up, manipulated, then reassembled using black porcelain slip as a binder. After thorough drying, the artist washes and sands the excess black slip off the surface, revealing the sutures. Frequently referencing organic forms such as the human figure, Armstrong's biomorphic pieces relate to both the Modernist abstraction of artists such as Miro and Picasso, as well as the sophisticated materiality of Japanese ceramics. —R.K.

Born: Greenwich, CT. BFA, Maryland Institute College of Art. Moved to New York City and worked as a fashion stylist/editor for nearly 20 years. Began studying ceramics at Silvermine School of Art in 2000. Awards include: Westport Arts Center Members Show; Spectrum 2005, juried exhibition at Silvermine; Craft USA 2005, national craft exhibition, Silvermine. Artist member, Silvermine Guild of Artists.