As the JBA Signature Collection evolves, techniques of sgrafitto and mishima are employed and added to the cut, altered and reassembled signature technique that Jocelyn has established in earlier collections. In recent work, Jocelyn draws inspiration from Cy Twombly paintings and drawings which are a study of line, writing and calligraphy. Glazed areas play again areas left unglazed, in her organic, modernist vision of artful objects for the home.

---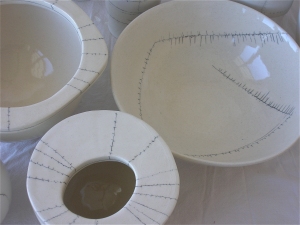 JBA Signature Collection
The JBA Signature Collection features the distinctive building technique Ms Armstrong has developed to create her sculptures. The beauty of the collection is in the simplicity of form, a delicacy of line and the subtle surface texture. Elegant, modern and refined, the objects compliment any home. Each object is a unique, hand-crafted work of art: a gift to enjoy and pass down through generations.