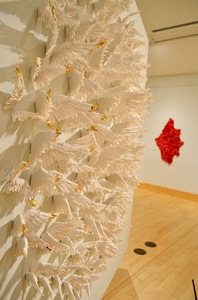 A Glimmering - Flinn Gallery - Case Study
"A Glimmering" is a 6 ft in diameter installation of 99 pairs of wings, 13 of which are tipped in 20k gold china paint. It was shown in the exhibition "Of Art and Craft" at the Flinn Gallery in Greenwich Oct 26 - Dec 6, 2017. Following is an image story of the installation which took 2 days to install with an assistant.
---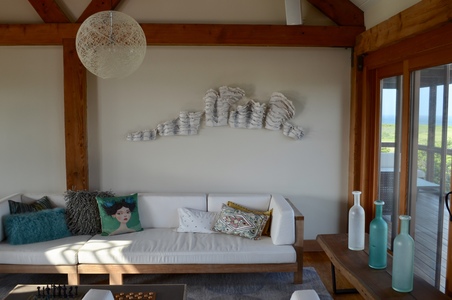 The Wave - Block Island Home - Case Study
Testimonial -
"Working with Jocelyn was wonderful. Knowing her creative genius, I knew she would turn my concept (an ocean based wall sculpture) into a thing of beauty, custom made for our this specific spot in our Block Island home. She allowed me as much creative input as I wanted…presenting different concepts, sizes, colors, etc. along the way. It was fun to have some input into the process but largely I trusted Joycelyn's instincts. The installation was seamless and fun! It was a brilliant experience from start to finish."